Dear Scrappers,
New challenge at:
""""""""""""""""""""""""""""""""""""""""""
The theme this fortnight at Pile It On is Monsters and/or Fairies. Have fun with the theme!
We're sponsored by Pink Gem Designs, and one lucky participant (chosen from challenges #126 & #127) will win 2 digi stamps/card toppers of their choice! The Top Picks for this challenge will be announced on February 26 and the Prize Winner will be announced on March 12.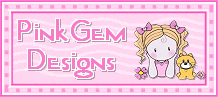 """""""""""""""""""""""""""""""""""""""
For this favoulous challenge, I decided to use Pink Gem Designs' file "A Fairy Nice Day", which is super easy to print, cut, layer, and voila you have nice birthday card:
I took this picture at night, thus my lightning is not great
For the inside of the card, I decided to create some balloons with the reminder images of this kit.
Here a better picture with more lights.
Here you can see the layers,
Here my daughter personalizing the card.
Her final result.
I hope you enjoyed this quick and easy card.